Indianapolis Personal Injury Lawyers
Representing Clients Throughout Central Indiana Including Marion, Morgan, Johnson, Hancock, Hendricks, Shelby, and Hamilton Counties
If you have been injured in an automobile or motorcycle accident that was not your fault, we can help you receive an insurance settlement that fairly compensates you for your loss.
How We Pursue Fair Compensation on Behalf of Injured Clients
We begin all personal injury cases with a thorough and free client interview in our office (or the hospital, if necessary). Thereafter, we immediately engage a private investigator to photograph the vehicles, accident scene and injuries. The investigator also obtains witness statements. We begin an immediate dialogue with the insurance company adjuster to let him know that your claim is one that we take very seriously and will pursue vigorously.
We instruct the insurance company adjuster not to contact you, therefore removing you from any confrontation and allowing you to focus on healing. We will compile medical records, bills and narrative statements from your treating physicians to document your claim. We will assist you in valuing your claim. We will file and prosecute a lawsuit, if necessary, against the responsible party to recover for any of the following:
Past and future medical bills
Past and future lost wages
Any lost earning capacity
Pain, suffering and emotional distress
Loss of consortium and services
Any permanent physical impairment
While most cases are settled in negotiation or mediation, a very small percentage do proceed to trial. We can explain to you the costs, risks, and advantages of trial in your particular case. We will litigate your case to protect your rights, if it becomes necessary.
Your health-care insurance or provider may hold a subrogation lean against any recovery received from the at-fault party. We will assist you in negotiating a reduction of that leaned amount, if allowable under the law.
Why might I need a personal injury attorney?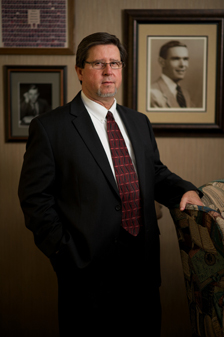 Insurance company adjusters go through extensive training to learn how to defend and minimize claims. Every dollar the insurance company saves in the payment of a claim is another dollar earned by that insurance company. You need someone on your side – equally experienced and trained – to investigate, support and document your claim. The first few hours or days after an accident are the most important. Our investigators will make sure that all necessary evidence to present your case – including vehicle photos, injury photos, accident scene photos and witness statements – will be obtained and preserved on your behalf. Rest assured the insurance company adjuster is investigating the accident, in search of a reason to deny your claim.
Our Fees and Costs
Like most personal injury attorneys, we represent client in personal injury cases on a contingency fee plus costs.  We advance the costs to pursue your claim and are paid back those costs out of any settlement..
Our contingency fee is equal to one-third of any money received through settlement before trial, or 40 percent of any money recovered after trial commences.  No attorney fee is charged unless we recover.
Get Started Today – Call Our Firm
Please call us at 317-786-2225 for a free initial office or hospital consultation to discuss how we can assist you in obtaining and recovering the full value of your claim without the worry and risk of dealing directly with the highly trained insurance adjuster yourself.