Indianapolis Criminal Defense Lawyers and Traffic Attorneys
We Serve Clients in Johnson, Morgan, Marion and the Surrounding Counties
If you, a friend, or a loved one have been charged with a crime, it's important to seek experienced legal counsel as soon as possible.  Our criminal defense practice is focused on traffic and driving license issues, misdemeanors, felonies, and expungements. We appear in both adult and juvenile courts.
For decades our firm has been providing dedicated criminal defense representation to those charged with a crime, including the following:
Drug crimes,
Theft and robbery,
Driving while intoxicated,
Assault and battery,
Domestic violence,
Forgery and embezzlement,
Traffic crimes, and
Other felonies and misdemeanors.
We do not represent cases involving sex crimes or forfeitures.
Protecting Your Rights
A criminal defense attorney is the only thing standing between law enforcement and prison. Our job is to protect your rights.  We take our job seriously.
Your most fundamental right is the right to remain silent. You should exercise this right as not only do you risk what you say being used against you, but you also risk that what you say may be changed and used against you.
Instead of talking to police and prosecutors who want to convict, call our firm.  Let us represent you against the prosecution and police.
Opposing the Prosecution's Efforts to Convict
In the United States, a criminal charge does not equate to guilt.  Under our Constitution, those charged with a crime are presumed innocent until proven guilty.  Not only must the prosecution prove guilt beyond a reasonable doubt, they must do so with evidence that is legally admissible.
When the rights of our clients are violated, such as when an unlawful traffic stop has occurred or evidence has been seized in violation of a person's constitutional rights, we will ask that evidence be declared inadmissible and, in many cases, that all charges be dismissed.
Prosecutors know that we will challenge vigorously nearly every aspect of the evidence that they intend to introduce, including eye witnesses accounts, police statements, and their theories of guilt.  As an American, it is your right to have to have experienced attorneys stand up for you in court and to fight vigorously for you.
Seeking the Best Outcome Possible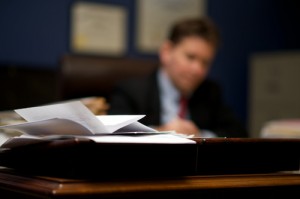 Every case is unique; our commitment to protecting our clients remains steadfast.  We want, and work at every turn to achieve, the best outcome possible.
As Indiana criminal defense lawyers, our first task is to carefully understand the facts, circumstances, and the prosecution's evidence relating to our client's criminal charge.  We want to determine if our client's rights have been violated, if the evidence is too weak to support a conviction, or if other flaws in the arrest may have occurred.
Prosecutors have a legal duty to dismiss a case if sufficient admissible evidence does not exist to support a determination of guilt beyond a reasonable doubt.  We will not hesitate to remind the prosecution of their legal duties in such circumstances.
Should a Plea Bargain Be Accepted?
Prosecutors also do not like to lose cases.  If there is a strong possibility that a defendant will be found innocent, prosecutors may make a plea offer, which sometimes involves a combination of reduced charges, drug or alcohol rehabilitation, and reduced incarceration or probation.  If a plea is offered in your case, we will advise you as to the advantages and disadvantages of accepting the same versus going to trial.  We will at all times take our instruction from you, our client, as we seek the best outcome possible.
Our Fees
Please call us to learn about the fee arrangements for your case; flat fees and payment plans are often available.
We work with you and for you. We offer a free phone consultation, so please call us before appearing in court or speaking with law enforcement. You have an absolute right to remain silent. Please exercise it and then call us at 317.786.2225.